4 Pairs Of HappyStore One Size Fits All Compression Socks
Sale!
HappyStore's Compression Socks have been specially designed to remove your pains and aches quickly so that you can start living a pain-free life
Our revolutionary Compression Socks can be used to successfully treat a range of foot related conditions including: plantar fasciitis, achilles tendonitis, swollen feet, heel pain, ankle pain, knee pain, fallen arches, bunions, sciatica and arthritis

Reasons Why Our Compression Socks Will Change Your Life:
1) VERY EFFECTIVE AT ELIMINATING PAIN IN THE FEET, LEGS AND BODY: When you put on our compression socks, you'll be able to relieve your aches and pains quickly
Many customers reported that they relieved pain in their feet in their first use of these compression socks!
A number of customers have also reported increased mobility as a result of using our compression socks
2) FEEL GREAT FOR YOUR FEET: Our socks are made from soft nylon and can fit snugly on your feet, providing comfort to your feet all day long. Wear them with or without regular socks by simply slipping them on

3) REDUCE SWELLING: The socks are designed to stabilise the ankles and feet and as you continue to wear them this stabilisation will result in less swelling in the feet
4) GREAT FOR ATHLETES TOO: The socks have special compression technology which enables faster regeneration, less lactic acid build up and better blood circulation, resulting in more oxygen reaching your muscles, allowing you to exercise in a pain-free manner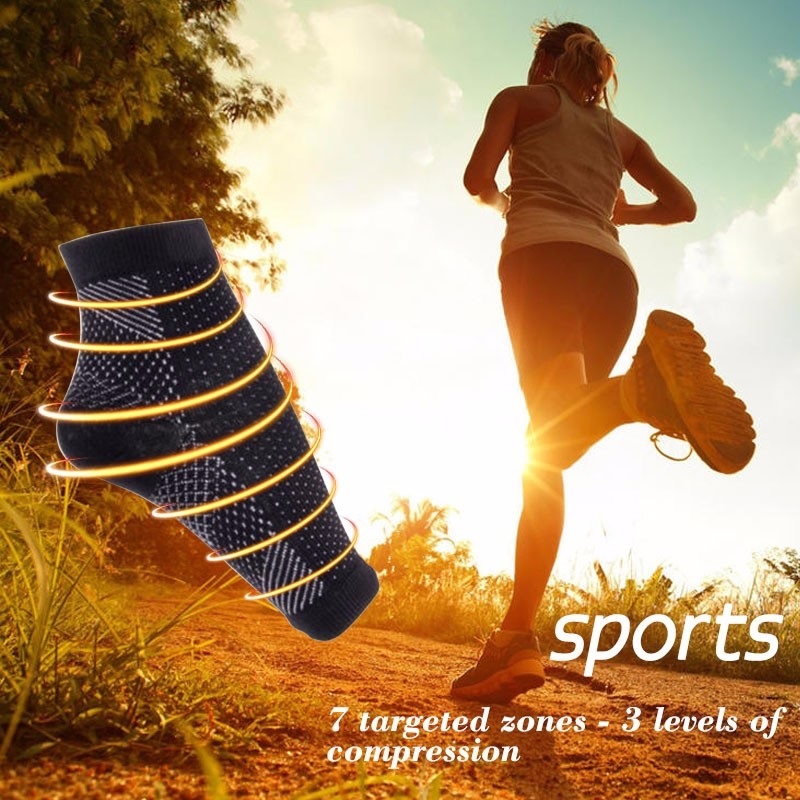 5) AFFORDABLY PRICED: After using these socks you won't need anymore expensive and time consuming massage, physiotherapy and chiropractor sessions
6) ONE SIZE FITS ALL: Our compression socks are unisex and and designed to be one size fits all making them suitable for everybody 
7) LONG LASTING AND DURABLE:  The compression socks are made from high quality nylon and are highly durable, so can be used year after year. You will receive 4 pairs of compression socks in order to give you a long term supply
How They Work:
7 COMPRESSION ZONE TECHNOLOGY: Our socks have been designed by a leading podiatrist, and each sock has 7 different compression zones and 3 levels of compression, targeting the ankle, achilles tendon, heel, plantar fascia, sole, joints and bunion to ensure every part of your foot is fully supported 
This 7 compression zone technology in the socks provides the following benefits:
1) Promotes blood circulation to help weak veins and pathways being compromised by the aging process
2) Limits swelling, both for those who are on their feet a lot, and those who avoid being on their feet due to pain
3) Creates support for the plantar fascia connective tissues from the heel, through the underside, to the toes
4) Naturally elevates and comforts the arch of the foot due to dropped support from obesity, weight gain, and weight bearing activities
5) Dramatically reduces healing time for those currently with plantar fasciitis and helps to improve and strengthen the muscles of your feet
6) Creates permeability and structural compression for hiking, running, sports activities, gym, walking and standing leaving you feeling fatigue free all day long
Shipping & Money Back Guarantee:
60% OFF SALE ENDS TODAY!
Free Shipping (Shipping Times: 5-10 days)
Your purchase is backed by our 30 day 100% satisfaction money back guarantee!
We are more than certain that you will be satisfied with our product, but in case you aren't, let us know within 30 days and we'll give you a stress-free refund