Sale!
HappyStore's Back Soother has been created to remove your pains and aches quickly so that you can start living a pain-free life
Our revolutionary Back Soother can be used to successfully reduce back pain by relaxing tight back muscles, improving and correcting postural imbalances and strengthening back muscles
Reasons Why Our Back Soother Will Change Your Life:
1) USED TO TREAT CHRONIC PAINS AND AILMENTS: The HappyStore Back Soother can be used to successfully alleviate debilitating back spasms, pinched nerves, herniated disks, sciatica. With continued use the HappyStore Back Soother can reduce your back pain
2) IMPROVES POSTURE: By lying on the Back Soother, for just 5-10 minutes a day you can safely stretch the ligaments and joints in your back to restore your natural back curve which can in turn give you a better posture
3) INCREASES FLEXIBILITY AND RANGE OF MOTION: When lying on the Back Soother, it's massage points will be gently working on all of the tissues and ligaments in your back, softening them naturally from their tense state which will increase your movement and flexibility
4) STRONG AND VERSATILE: The Back Soother is extremely strong and can support up to 250kg in weight, it is lightweight so you can take it with you wherever you go, keeping your back in optimum condition at all times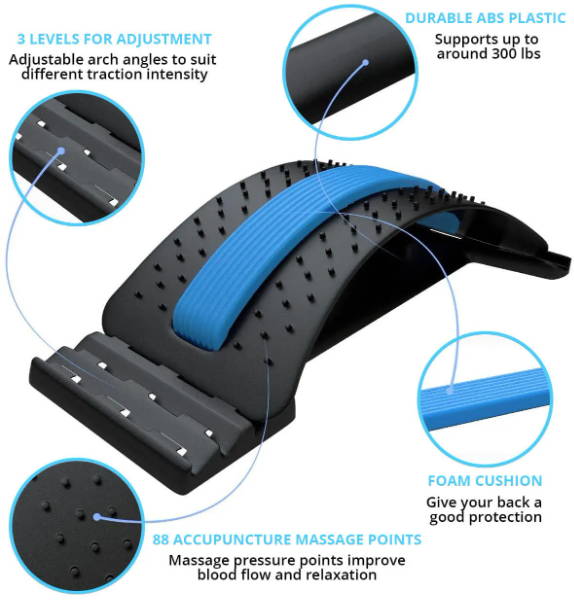 5) STRENGTHENS THE BACK AND PREVENTS FUTURE BACK SPASMS: The Back Soother will strengthen your upper, mid and lower back muscles, allowing them to become stronger and able to cope with all manner of every day tasks and activities, thus preventing back spasms from returning again
6) AFFORDABLY PRICED: After using the HappyStore Back Soother you won't need anymore expensive and time consuming massage, physiotherapy and chiropractor sessions
7) SAFE TO USE: The HappyStore Back Soother is 100% safe to use with no side effects
8) LONG LASTING AND DURABLE:  The HappyStore Back Soother is made from  high quality ABS material and is strong and highly durable, so can be used year after year
How To Use It:
The Back Soother is very easy to use, simply set the stretcher height, align it to your hips, lie down slowly onto it in a supine position for 5-10 minutes a day. 
Shipping & Money Back Guarantee:
60% OFF SALE ENDS TODAY!
Free Shipping (Shipping Times: 5-10 days)
Your purchase is backed by our 30 day 100% satisfaction money back guarantee!
We are more than certain that you will be satisfied with our product, but in case you aren't, let us know within 30 days and we'll give you a stress-free refund